The Toilet Bowl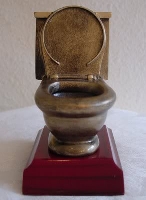 Awarded To: Winner of the "consolation" bracket

AKA Losers AKA Tier II group that didn't make the main bracket. Beats a sharp stick in the eye.


Year
'06-'07
'07-'08
'08-'09
'09-'10
'10-'11
'11-'12
'13-'14
'14-'15
*'15-'16
'16-'17


Team Name
Smell The Glove
Hakan Loob Goon Squad
Potomac Polecats
canucksuck
Vancouver Canuckleheads
Smell The Glove
Kenuck Suck
East Coast Pond Skaters
Sterling Saves
Montreal Freemick Bros


Manager
Matt D.
Dizzy Ken
Glenn C.
Ken Q.
Janson C.
Matt D.
Ken Q.
Marc B.
Don H.
Fabrice F.

*Replaced with the Last Chance Kitchen for winner to enter Bucket Bracket