The Bucket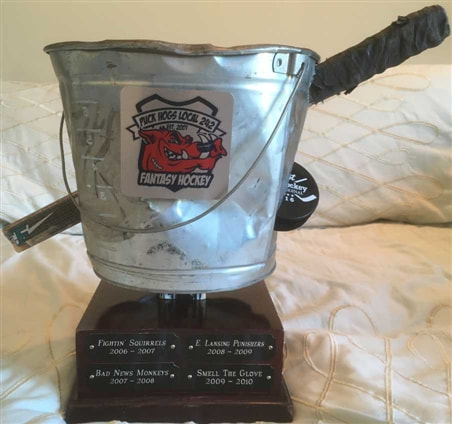 Awarded To:
PHL242 Playoff Champion
The Bucket is the first and last name in fantasy sports trophies. It contains mythical powers and sharp edges that can hurt you and may require a tetanus booster. The idea for The Bucket arose out of an early PHL242 message board thread about ugly hockey players. "Mike Ricci looks like a river troll" quipped one Puck Hog, "Mats Sundin is the Swedish missing link, they feed him fish heads instead of a salary", commented another. "Dale Purinton looks like a bucket of smashed assholes" interjected another planting the kernel for our holy trophy.
The Bucket had humble beginnings as a simple bucket on the back patio of the commish's home. During Fantasy Hockey All-Star Weekender '01-'02 (a proto-Puckapalooza), the Commish and Ralph hatched the idea to forge this mighty vessel. They put the humble bucket through a crucible of trials including hockey stick beatings, puck target practice, then actually using the bucket as a puck in an impromptu game of back porch street hockey
Witness the Birth of The Bucket
. Once it was good and toughened up, the boys used tools to cut the metal and insert a broken hockey stick (they made them from wood once, you know) and a puck in a menacing protruding fashion. And the bucket became The Bucket.
Its full and proper name is The Bucket of Smashed Assholes but we simply refer to it as The Bucket. There can be only one. The first iteration of The Bucket also saw it emblazoned with a select group of mug shots of the finest be-mulleted, toothless, and crooked-nosed hockey players in the NHL. Also included was a simple league designation sign.
In 2008, The Bucket went through a remarkable upgrade which saw it proudly mounted to a polished mahogany base emblazoned with plaques designating past winners of the PHL242 Championship. The "asshole" mugs have now been removed to give The Bucket a more distinguished look but it now contains hockey cards of notably ugly hockey players inside as well as a scroll showing the "Nine Rules of The Bucket".
The Bucket 3.0 was recently unveiled, with the sleek new PHL242 logo and gear from recent Paloozas in Vegas and Colorado. More importantly, the Bucket gave birth to 15 baby Buckets, one for each past champion and all champions going forward, and soon to garner it's own reality TV show.
The Bucket has traveled across the US and Canada and stands as a beacon to fantasy hockey geeks, freaks, and retards around the world. Only the most worth of fantasy hockey managers are privileged to drink from this rusty chalice.
Year
'01-'02*
'02-'03*
'03-'04
'05-'06
'06-'07
'07-'08
'08-'09
'09-'10
'10-'11
'11-'12
'13-'14
'14-'15
'15-'16
'16-'17


Championship Team
Team Beavis
McSorley Headbanger
Pasadena St. Pats
GAJB's Habnots
Fightin' Squirrels
Bad News Monkeys
E. Lansing Punishers
Smell the Glove
It's not a Job, It's a Kariya
Krazy Kopitarians
Mo Hopslammers
Montreal Freemick Bros
UVIC Entrepreneurs
Republic of Newfoundland


Manager
Adrian G.
Ralph F.
Todd H.
Gary B.
Glenn C.
Adrian G.
James A.
Matt D.
Ryan P.
Brent F.
Chris H.
Fabrice F.
Alec KM & John M.
Kris P.

* Indicates a pre-Bucket Championship