Puckapalooza

Puckapalooza, or sometimes simply plooza, is the pinnacle of puck hoggery. This mostly annual event gathering puck hogs from around the US and Canada for a few days of hockey, drinking, betting, hockey, poker, and maybe some more hockey. Attendance at a plooza will instantly make you a made man in the PHL242. If this is important to you the you should probably reexamine your priorities. It's still a damn good time. The plooza box score sheet is a continuance of a pre-PHL242 tradition of documenting success, failures, and ignominy from the degenerate event. Read the summaries below and you'll see what we get up to.

Philadelphia '05

---
First Period (Wachovia Center)
Todd 1 (Amy): 24 hour trip covering 3000 miles, all for this event.
Jimmy 1 (Nancy): Flying from Seattle to New Jersey to spend a weekend with hockey geeks he's never met.
2:00 (minor) Delay of Game: Josh. Five of six assembled and ready, where is Josh and why does he sound stoned when we call him to find out?
McV 1 (unassisted): Slap Shot 25th Anniversary DVD in the mini-van's DVD system. Keeps children and adult fans quietly entranced alike.
McV 2 (unassisted): Scoring Victor's Club tickets for Todd and Jimmy.
Primo Hoagies 1 (McV): Not a sub, not a hero, not a ssammich, it's a hoagie, yo. McV with the setup phone call beforehand.
2:00 (minor) Mobile Consumption: Adrian, Todd, Glenn, Jimmy. Drinking in McVs stealth mini-van party wagon while driving from NJ to Philly.
Delta Dental Ice Girls 1 (Philadelphia Flyers): 'nuff said.
2:00 (minor) Retarded Naming: Philadelphia Flyers. For picking such a horrible name for aforementioned girls.
2:00 (minor) Larceny: Wachovia Center. 60 seconds of bubble hockey for $2.00.
5:00 (major) Sucking: Philadelphia Flyers. Getting shut out when we stressed for a month about buying overpriced tickets.
5:00 (major) Working: Todd. Talking in the mini-van to his office while holding a beer and half drunk.
Jimmy 2 (Ass-tracker): Updating the group of six on up to the minute Stat-tracker stats using Treo while returning from Wachovia Center.


Second Period (Dinner at the McVeigh's)
McV (Kathi): Hosting hockey strangers like professionals, perfecto.
Josh 1 (McV): Air hockey champion, do not screw with this man.
2:00 (bench minor) Absence: PHL242ers not attending. Your chance for reparations will occur next season.
Josh 2 (Philadelpha Flyers, Ottawa Senators): Bringing a tape of the 5 brawls at the end of the Flyers/Sens game with the most PIMs ever.
Glenny 1 (unassisted): Bringing housewarming/spouse-appeasing gift to Kathi. Classy move.


Third Period (Poker, Inebrieation)
Josh 3 (unassisted): Poker superstar for the night.
4:00 (double minor) Chickletting: Glenny. Making a vodka gimlet using chicken stock ice cubes (now dubbed "Chicklet")

---
Toronto '06

First Period (Friday)
Buffalo Baggage Claim 1 (Vancouver Canucks): Deplane, go to baggage claim and there is a guy wearing an old school (V-notch) Tiger Williams jersey.
Porter 1 (Corio): Rental car and driving.
2:00 (minor) Turtling: Auston. Missing FH draft
2:00 (minor) Turtling: Ralph. Missing FH draft
4:00 (double minor) Turtling: McV. AWOL from FH league and draft.
2:00 (minor) Delay of Game: Glenny. Getting Jimmy lost on the way to breakfast in Buffalo.
Panos Diner, Buffalo 1 (Chambers): 40 bucks feeds five, including large OJs. Good cheap eats.
Corio 1 (Chambers): Keeps straight face while telling Canadian border guard we're there for the FHL Draft.
2:00 (minor) Reticence: Jimmy. Not asking Canadian border guard if he thinks Cheechoo will keep it up.
Tim Hortons 1 (unassisted): Coffee, doughnuts and a new travel mug for Glenn.
2:00 (minor) Navigational Misconduct: Glenny. Trying to avoid visit to Niagra Falls.
2:00 (minor) Provincial Minor: Toronto. One way streets messing up tourist navigation.
2:00 (minor) Ethnic Misconduct: Glenny. Describing how room at La Grange reeks of curry as elevator door opens and an Indian woman is standing there.
Fat Belgian Restaurant 1 (Cute waitress): Jimmy and Adrian liked her. Friday dinner complete with several Belgian beers.
Corio 2 (unassisted): Setting up WiFi at La Grange for testing when he didn't have to.
Hoddick, T. 1 (Technicolor): Gutting out several grueling LA-Europe biz trips in order to take this one and stay at the Sheraton gratis.
Corio 3 (Nancy): Making commitment from west coast travel two consecutive years.
2:00 (minor) Brewery Misconduct: Keith's Brewery. Adrian thinks the Vitamin K isn't hoppy enough.
2:00 (minor) Instigator, Complaining about snoring: Adrian.
2:00 (minor) Excessive Snoring: Glenny.
2:00 (minor) 2nd Man In, Excessive Snoring: Jimmy.
20:00 (Game Misconduct, Gross Misconduct) Simply for existing: The Grange Hostellerie, Toronto. Being disgusting and depriving us of $260 Cdn for two nights of sleep.


Second Period (Saturday)
2:00 (minor) Turtling: Quan. We came to your country man!
2:00 (minor) Turtling: Bisson. Holding the bucket but not showing up to the draft.
Quan 1 (unassisted): Supporting the beer habit via remote.
Tim Hortons 2 (unassisted): More coffee, doughnuts (for some) and a panhandling doorman.
Hoddick, T 2 (Hoddick, A): Setting up WiFi at Sheraton.
Pasquale, Manon 1 (Marco): 13 month old Sebastien = Cute Kid.
Bisson 1 (unassisted): Informs PHL that beer is IN The Bucket.
Hoddick, T 3 (Chambers): Random drawing second 1st pick in two years.
5:00 (Major) Unsportsman like conduct: Adrian. Bragging about draft prep then complaining about picking 17th.
Hoddick, A 1 (unassisted): Amy rescues WiFi connection during temporary disconnect, affecting only 2 picks.
Hoddick, A 2 (unassisted): Annoying TPSH and Canucksuck with timely draft picks.
Pasquale, Marco 1 (unassisted): Scores good pizza for draft party.
2:00 (minor) Canadian English: Pizza place. Bacon on Hawaiian Pizza.
Porter, Jeff 1 (unassisted): Rolls into the draft party with two cases of beer.
Corio 4 (Hoddick, T): Beer cab run after Gretzky's


Third Period (Sunday)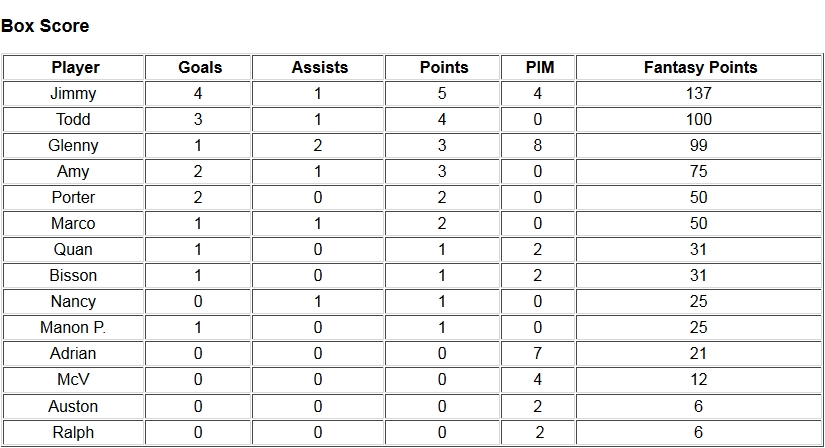 ---
Las Vegas '07

First Period (Thursday/Friday) 4:00 (double minor) Truancy: Ralph. Missing yet another PHL draft weekend.
2:00 (minor) Truancy: Auston. Missing yet another PHL draft weekend.
2:00 (minor) Blasphemy: Glenny. Left The Bucket home, in the basement.
Kenny 1 (Mrs. Kenny) Ending 2yr Puck Hog drought and making the trip. Huzzah!
Kenny 2 (Cane) Playing hurt, flying all the way after knee surgery (get back on the ice)
Jimmy 1 (unassisted) Bringing WiFi router, establishing WiFi network.
Amy 1 (Luxor) Upgrade to 1,500 sq. foot, 3br suite.
Dee the bartender 1 (Adrian, Scott) Engaging Puck Hogs in Simpsons trivia.
2:00 (minor) Suggestive Misconduct: Glenn Chambers. Saying that Scott wanted to lick the lemon juice soaked fingers of Dee the bartender.
2:00 (minor) Dyspepsia: McV. Resistance to nouveau cuisine, such as cucumber infused water and Vietnamese and Indian dinner options.
4:00 (double minor) Delay of Game: McV. Oversleeping and almost missing dinner.
Todd 1 (Amy, American Express) Picking up dinner for 7 at Il Fornaio.
Glenn 1 (unassisted) First time at a roulette table and walked away $45 up.
2:00 (minor) Cooling: Glenny. Hitting, busting and costing Adrian $40 on a blackjack hand.
2:00 (minor) Clark Griswalding: Adrian. Going down about 3 bills in 12 hours.
2:00 (minor) Soliciting Misconduct: Las Vegas. Several prositutes approached Puck Hogs over course of weekend with offers to "party"... and Amy wanted to know why Todd didn't invite some of them up!


Second Period (Saturday)
2:00 (minor) Institutional Misconduct: Excalibur Hotel. Crummy music by the pool and a jackhammer doing work beside the pool.
5:00 (major) Spamming: Luxor Hotel. Carrot Top billbords EVERYWHERE!
Adrian 1 (Hanson Brothers) Playing the Hanson brothers numbers on roulette and hitting 18.
Scott 1 (Todd) Discoursing on the nuances of card hames and craps for the benefit of all.
Jimmy 2 (Todd): Spoofing the IP address on the router to hack the Luxor IP limitation.
5:00 (major) Institutional Misconduct: Luxor Hotel. Threatening $6 delivery charge for church key. Todd bought blingy Vegas one from a store in the lobby instead and it shall be a part of The Bucket evermore.
Mothertruckers 1 (unassisted) Good naturedly taking the heat from the boys and girl.
Todd 2 (unassisted) Making material bling contribution to The Bucket.
Dz Kenn/Haken 1 (unassisted) Raising the bar on the message board
Dirty Pete 1 (unassisted) Also raising the message board bar and hilarious Michigan 1-AA joke.
Dz James/Haken 2 (unassisted) Scoring #1 draft pick in rookie year.
2:00 (minor) Self loathing: Scotia. Commenting, "I hate myself" after at least two draft picks.
2:00 (minor) Motherhood: Amy. Drafting Dan Clouiter for her son.
2:00 (minor) Sleeping at the wheel: Amy. Drafting Dan Giordano (Russian league signee)
7:00 (minor + Instigator) Cuckolding: Todd. Trading Sakic to Glenn in front of Adrian.
2:00 (minor) Cuckholding: Glenn. Accepting Todd's trade offer
2:00 (minor) Narcolepsy: Adrian. Falling asleep on floor in view of everyone following draft and football game.
2:00 (minor) Institutional Minor: Rainforest Cafe. Schlocky, Sysco-quality service, including Scotty's headache inducing electric discoball flashing lemonaide souvenier cup.


Third Period (Sunday)
Adrian 2 (Todd, guy in blue shirt) Amazing $1K comeback fueled by Todd's 15 minute craps lesson.
Kenny 3 (guy in blue shirt) $400USD profit (thats almost 500CAD) on same table.
Las Vegas 1 (unassisted) Just like the Budweiser commercial... hundreds in TSA line upstairs cheering the troops visiting Vegas on leave from Iraq/Afghanistan as they walked through baggage claim below.
2:00 (minor) Not that there is anything wrong with it: Adrian. Having romantic dinner with Kenny Sunday night in booth part of room with all couples.
2:00 (minor) Playing Asian sugar daddy: Ken. Having romantic dinner with Adrian Sunday night in booth part of room with all couples.

---
Seattle '10

First Period (Thursday/Friday)
Scoring Summary:
Jenny Flowers (1) (Unassisted): Waitress with tour schedule and regulatin' with the "I have the talking stick" comment.
Ken (1) (Rose) Making the trip from BC, and looking smooth in the letterman's jacket.
Shorty's Bar (1) (Anchor-Tattooed Bartender) Cheap pitchers, pinball, and hot dogs including veggie dogs for the high maint commish.
Wednesday Addams (1) Keeping us lubed with great cocktails at the Zig Zag.
Jimmy (1): (Nancy): Hosting first NW Plooza.


Penalties:
Scott (Obstruction minor) Deliberate intent to disrupt Adrian with text message.
Seattle (Municipal minor) Obnoxious people at hotel bar disturbing Scott's vibe. Didn't know that was possible in the PNW.
Glenn (Delay of Game minor) Dinner was good, company was easy on the eyes, and bill was expensive, but was it worth the trip? And who drinks a $70 bottle of wine on a hockey trip?
50-Something Drunk Girl Hotel Guest in elevator (Intoxication double minor). She was jealous that Scott and Glenn were on the top floor and she had to get off at 4. She'd have stayed on the elevator if only she'd been asked. Where is James when you need him?
Glenn (Fishing minor) Sardine baguette at lunch? <tweep>
Scott (East Coast food bias-ing minor) Continued griping about food in non-English languages.
Glenn (Hand-wringing minor) overly worried about parking in open lot in downtown SEA with luggage in the car. Luckily he took the hard drive with the launch codes in his backpack.
Seattle (Municipal Misconduct) Weak-Ass Parking Ticket after midnight
Ken (Trafficking major): Bringing Canadian OTC meds for Glenny across the border.
Glenn (Receiving Trafficked goods minor): Are you sure there wasn't Viagra in there?
Todd (Schadenfreude-ing double minor): Enjoying beating Adrian during heads up poker a little too much.


Second Period (Saturday)
Scoring Summary:
Jimmy (2): (Danielle): The "biker bar" breakfast at Palmer's was the hangover elixir we all needed.
Amy (1): (Scott): sporting vintage NHL sweaters to Plooza. Real sweaters.
Danielle (1): (Scott): "He can suck it." said the unimpressed Pittsburgh native when Adrian told her that McV was from Philly.
Jimmy (3): (Adrian): streaming CBC's Hockey Day in Canada onto multiple laptops for sports bar vibe during afternoon poker game.
Scott (1): (Todd): Winning first round of poker tourney
Scott (2): (Todd): Winning second round of poker tourney
Adrian (1): (Scott): Comeback to McV's comment about "does it bother that I've beaten you in two poker tourneys" Response: "Naw, it's just two more times than you've made the PHL playoffs".
Glenn (1): (Adrian): Winning third round of poker tourney
Adrian (2): (Ken): Winning fourth round of poker tourney
Scott (3): (Amy): Trading all five players for the #3 WHL scoring leader Shane Harper in the WHL grabass fantasy challenge. It almost worked.
Jimmy(4): (Everett, Kamloops): Who needs the NHL when you have a kick ass WHL set up like this? And we saw Everett's 14th win in a row.
Glenn (2): (Todd, Adrian): Going out like a hero and getting his wang chopped off on early all-in poker calls with good cards. .
Ken (2): (Todd): winning the WHL fantasy grabass challenge


Penalties:
Jimmy (Gross Feline Misconduct): Were we supposed to brush our teeth with the cat food on the bathroom counter?
Seattle (Municipal Minor): Scott finds the polite and accommodating PNW'ers to be creepy.
Jimmy (Canine Flatulence major): Cooper the dog busted ass right in front of Glenny, causing him to clear the zone. Maybe this should be a goal instead?
Amy (Poker Flop minor): Last place in combined poker score. Note: this is one of those "good" penalties, like a trip on a breakaway as she said she doesn't play, but did anyway.
Adrian/Scott/Todd (Matching Minors, Child Labor): Betting $5 on the winner of the 6 y.o. mite league game between periods of the WHL game.
Scott (Limp Wristed Throwing Style minor): Chuck-a-puck throw came nowhere near clearing the safety net.
Glenn (Poker Newbie minor): friendly betting during poker, no killer instinct.
Adrian (WHL Game Fantasy Points Flop): Didn't get a single G/A/PIM with any of his five players.
Scott (PHL242 points flopping minor): Last place in the Fri/Sat points total.
Glenn/Adrian (Slap Fighting coincidental minors): Throwing tantrums over the iPod selections.
Scott (iPod double minor): Kelly Clarkson on the iPod…then blaming it on the wife.
Ploozers (Delay of Game minor): Arriving too late for the Red Hook Brewery Tour.


Third Period (Sunday)
Scoring Summary:
Glenn (2): (Connie): Psycho travel schedule, 3K miles and no sleep on last night
Scott (4): (Kathi): Psycho travel schedule, 3K miles and redeye before speaking at a conference.
Jimmy (5) (Danielle): So good they had to go back to Palmer's.


Penalties:
James (Delay of Game): You know what for.
George (Delay of Game): Weaseling out and local lack of attendance

---
Hartford '11

First Period (NYC)
Scoring Summary:
McVeigh (1) (Unassisted): Fronting cash for NYR and HFD hockey tix.
Adrian (1) (Unassisted): Farthest Plooza traveler.
Matt DeF (1) (Jessica): Plooza-ing straight from airport after a week long biz trip and before seeing the fam. How'd that couch feel when you got home?
Matt DeF(2) (Eric): Getting Ryan Smyth's autograph while Eric gave the other guys the TV studio tour.
Eric (1) (Unassisted): Giving AD and McV a tour of the TV truck. Hockey coverage, it's just a job. Couldn't hook up Matt too but that's ok, you can't necessarily visit the champagne room on your first Plooza.
Eric (2) (Dianne): Hosting as post-NYR crash pad.
Dianne (1) (Eric): Bringing back bagels for the drunks in the morning.
Glenny (1) (Unassisted): Prepaloozing, Drunk already by game time.


Penalties:
Eric (Death Marching Minor): Leading half-drunk friends 12+ blocks to bar.
Glenny (Sharing Minor): Giving pretzels/chips at bar to random drunk guy.
Matt Walton (Absenteeism Major): Disappearing on the boards and plooza no-show.
Team Hoddick (Absenteeism Minor): First ever Hoddick-less plooza.
Jimmy (Absenteeism Minor): First ever Jimmy-less plooza.
McVeigh (Abandonment Minor): Joining brother for a beer while AD waited in street with a drunken Glenny.


Second Period (Hartford 1st night)
Scoring Summary:
Glenny (2) (Unassisted): Scoring Whalefest pucks for the gang from the hotel check-in guy.
James (1) (Shannon): Finally making a Plooza!
James (2) (Unassisted): Big pokerpalooza winner on the first night.
Glenny (3) (Adrian): Non-fan boy interaction with Craig Janney in hotel lobby (Adrian gets shot of Winnipeg Jets bag).
Eric (3) (James): Using baller status to secure suite for weekend.
James (3) (unassisted): Booking other Hilton room.


Penalties:
Sleazy Autograph Seekers (Hounding Minor): Sketchy adults collecting player sigs for ebay.
Glenny (Commish Freezing Double Minor): Leaving AD's jacket at Eric's house.
Glenny (Catcalling Minor): Shouting out random girls' names to see if any of the teenage rink rats at high school game would look up. "Kelly!" "Brittany!" "Heather!"
Glenny (Wandering Minor): Happens at every plooza. We have video this time.
Eric (Docenting Minor): Constantly giving directions to Jersey resident McV.
Eric (General Antagonizing minor): Wearing sunglasses to antagonize Glenny during poker.
CAPSLOCK (Absenteeism Major, Game Misconduct): Missing Plooza down the street. And we even watched a HS team from his home town.


Third Period (­Hartford 2nd night)
Scoring Summary:
The Zambonis (Unassisted): Playing Whalefest and the Hockey Monkey song twice and engaging Puck Hogs in chatter after game.
McVeigh (2) (Brats): Enduring seriously cold weather in the name of the game.
Adrian (2) (Beer): Enduring seriously cold weather in the name of the game.
Glenny (4) (Brats): Enduring seriously cold weather in the name of the game.
James (4) (Brats): Enduring seriously cold weather in the name of the game.
McVeigh (3) (Adrian): Manning the grill while it was freeze-ass cold.
James (5) (Unassisted): Being tough and enduring the cold with a coat a bit too light.
Steve Carlson (Adrian): Steve Hanson being good with the fans. "Can we get a couple of snapshots with you?" "Sure…after I go take a fucking piss."
Glenn (5) (Connie): Greeting former NHL tough guy Chris Kotsopoulos in Greek and getting it in return.
Dunkin Donuts Girl (1) (Unassisted): Handing our Dixie Cups of hot chocolate in windy, sub-20 degree weather over and over and over...


Penalties:
Glenny (Extinguishing Minor): Turning off the propane stove (Commish is convinced he's trying to kill him).
Drunk Hartfordians (Cooking Major): Drunkenly running their propane grill INSIDE the back of their SUV, flare ups, smoke and all. Seemed like a good idea at the time.
James (Squandering Minor): Losing all poker winnings the following night.
Bench minor (Dunking Minor): Watching NBA slam dunk competition at bar and enjoying it.
Ed Hospodar (Goosing Minor): Grabbing James on the ass and making it look like Lyndon Byers did it.